This is the story of Iryna Bushmina, DRR of Ukraine. An incredible Rotaractor facing horror and finding the power of the BIG Rotaract and Rotary family. A story to remember…
Now Iryna is one of the most active persons who are helping people in need from Ukraine and coordinating the efforts with Rotaract Europe, Rotary and Rotaract clubs, and also volunteers from around the world.
By Iryna Bushmina | District Rotaract Representative 2021-2022, Ukraine
I would like to start by sharing a story that might sound familiar.
The story is about a young woman who, after watching hours of news and struggling to fall asleep, was suddenly woken up by a phone ringing and a familiar voice in an unfamiliar tone- 'we are leaving, are you coming with us?'
Within hours, this woman finds herself staring out the window of a car- watching places pass by in a city she knows she might never see again- watching the blank faces of neighbors already gathered in long lines at groceries stores and empty gas stations, faces she may also never see again.
There was surreal silence inside the partly broken car held together with only spare parts, hope, and the determination that it and its passengers would survive the over 12-hour drive to the border. No words were exchanged between the two frightened sisters and the crying 3-month-old baby as they waited another 10 hours to cross the border with countless others.
It would be another 5 days of travel until she found a home for the sister whose husband, along with all the other men in their lives, had stayed behind to fight in the war. The two women had left behind their parents, family members, and everything else that didn't fit into the two small bags they carried with them, but at least they were saved.
The young woman who now found herself alone… is me.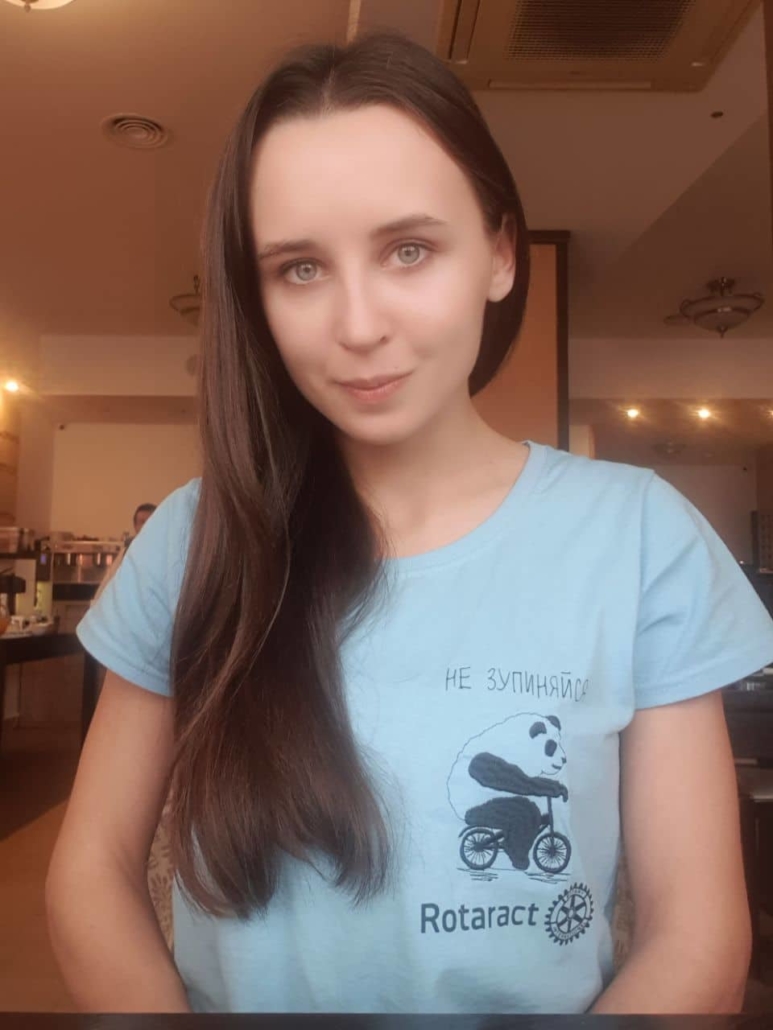 I quickly realized, however, that I was not alone. I turned to social media and found my much larger family in Rotary. People from around the world began messaging me, asking how they could help. Three different Rotary families helped me on my journey and I can't tell you how incredibly grateful I am. The Rotary Family is not beautiful words, I am living the reality.
I arrived in Vienna and was immediately welcomed in by a fellow Rotaractor. We didn't really talk or go out, instead, we spent our time answering messages, making calls, forming teams, and discussing plans for our next steps. For days, I barely left the room – eating and drinking from bed because there was no time. From nothing, we developed our first project – finding accommodation abroad for Ukrainian Rotaractors.
I derived my energy from my International Rotaract team, which started in the first few hours of the war and is still growing now. I help lead a team of over 100 active people engaged in raising money, collecting supplies, finding homes, and ensuring a free flow of truthful information from around the world.
On the news, you will hear that there are 100's thousands of refugees fleeing Ukraine and in fact, fleeing conflict all around the world. But it is not true.
They are me, my frightened sister, and her 3 months old baby in a broken car in search of safety.
Would you take me in?
And now more importantly, would you help me find safe homes for the rest of our families?
You can support Ukraine by joining the campaign of ERIC – "Rotaract Europe aid to Ukraine" by donations.
Beneficiary: Rotaract Europe ASBL – Help account
IBAN: LU30 0019 7055 1338 2000
BIC / SWIFT: BCEELULL Bank: Spuerkeess
Subject: Donation Ukraine
All the collected funds will be used for humanitarian aid to the Ukrainians in need of medical & sanitary supplies, food, clothing, shelter, first aid kits, and more depending on the weekly evaluations working together with Iryna Bushmina – DRR Ukraine, Daria Shevtova – CR Ukraine, Rotary clubs and other NGOs.
More information you can find on our dedicated page here – https://rotaracteurope.eu/united-for-peace/