In 616 days the world can turn upside down, you can change your job, move to another country, cut your hair only once because of the lockdown, lose 20 kilos or gain them because you only work from your bed. But for us – Rotaractors, 616 days was the amount of time we had to spend without hugs from one another, without seeing each other in person or without our precious REMs and EUCOs.
By Lubinka Horvathova | Rotaract Europe, Marketing
Don't get us wrong, the online events we were able to experience brought a lot of new information into our lives, most of us still stayed in touch and we were able to see our beloved country booths and social projects with a different set of eyes. But we hope most of you will agree that nothing can replace that wonderful feeling of running into each other's arms after what seemed like forever. At that moment, you feel like everything stopped!
And so, we waited, waited and waited and then REM Cracow 2021 was FINALLY here. Thanks to our amazing organizers, who had to face many challenges starting with rescheduling the event completely, we were able to meet after exactly 616 days. Of course, the event was held under all current Covid-19 measures in Poland to ensure the safety of the participants.
Everything started with the Black&White party on Thursday evening, where we were able to enjoy the music, talk, dance and most of all, stop missing each other for a little while.
Friday started out with panel discussions full of Rotaractors who wanted to contribute. The first session "Journey Through Rotaract" was held by the CR of Denmark Jesper Fritz and continued in a discussion about personal experiences. In the second session, our President Christiane Leitner and Vice-President Morten Saxtorff spoke more about the Cooperation across Europe and made an amazing discussion showcasing the opinions of both experienced and new members of Rotaract.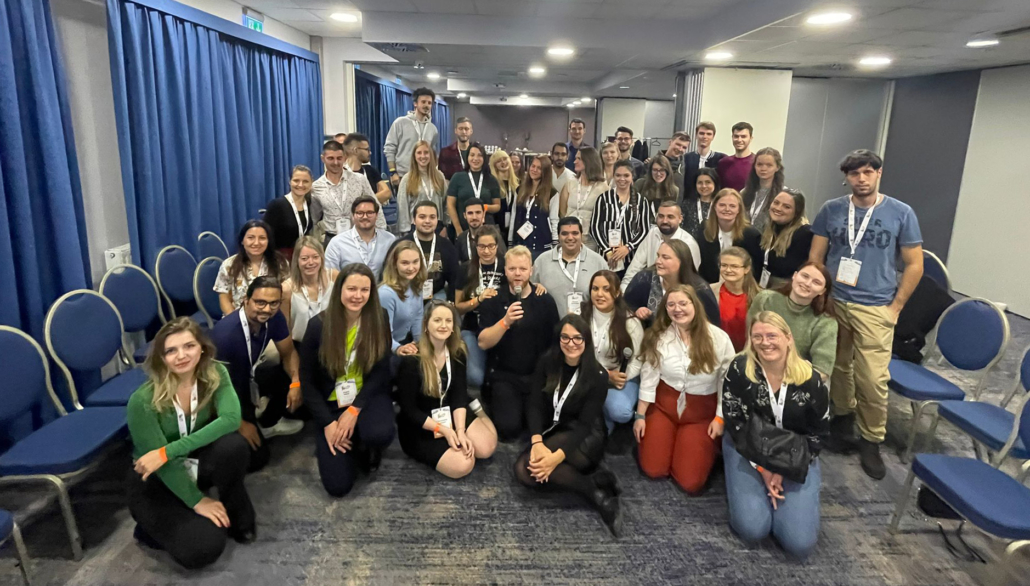 The workshop at REM Cracow was dedicated to Zero Waste – how to minimise waste through responsible production, responsible consumption, reuse and recovery of materials. The participants learned how to reuse empty jars or how to make a shopping bag out of old curtains. For additional information, you can contact Jagoda Zmarz from Poland, the facilitator of the workshop.
The CRs dinner filled the program for the rest of the afternoon and for the evening our HOC and CRs prepared a wonderful Opening Ceremony and sorely missed Country Booths with deliciousness on each table.

On Saturday we had the chance to be a part of the first hybrid ERIC meeting, voted for important topics in the bylaws of ERIC that can be found here and shared a lot of successful projects in the open mic session. At the meeting REM Turin was elected as Winter REM 2022 – 27th-30th January 2022. Find them on Facebook and Instagram for more updates in the following months or visit their website – http://www.remturin2022.com/. We also had awesome updates for EUCO Riga 2022 – 26th-29th May 2022. You can find them on Facebook and Instagram, and on the website – http://eucoriga2022.com/
To finish off everything in a style, our HOC team prepared a once in a lifetime experience for the Gala dinner. We got to spend it 101 meters underground in the beautiful and unique Wieliczka Salt Mine, listen to an amazing orchestra, dance and have fun with fantastic people.
Although the time flew by very fast from the moment we arrived, it was filled with smiles, laughter, new and old friendships and Rotaract reconnections. It was simply unforgettable.
In 616 days you can start your own company from scratch or try to win a war with the worldwide pandemic. In 616 days we saw each other again.