Dear Fellow Rotaractors and Rotarians,
A Vilnius to remember…
Vilnius was a jam packed event, full of projects, conversations, workshops, culture and of course a few lively evenings. None the less, this event was spectacular. While it was a bit chilly at times, the warm hospitality of the Host Organizing Committee (HoC) and Lithuanians negates the fridge like weather. A big thank you to Marius & Lukas & Big team of Lithuanian Rotaractors.
During our E.R.I.C. meeting on Saturday we voted on the key points below.
voting on the final articles for forming a legal entity for ERIC – approved
voting on the 2019 Winter REM – Sweden and Denmark won
a new version of event bylaws – we have removed tier competition and will allow for free competition with some regulations such as a price limitation and removing the force exclusive pricing for the Board and Country Representatives, instead they will enjoy the same priced package as the first wave participants- unless the HoC decides to provide them a discounted package. Please see the new bylaws here.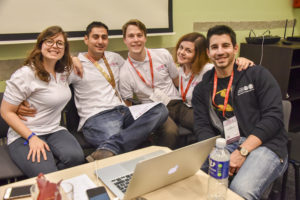 During the meeting our Head of Social, Merve Karakaya, launched the E.R.I.C. Social awards. This year we have expanded our social agenda to not only encompass our yearly Best European Service Project (BESP) and Twin Club Agreement (TCA) awards but we have added new categories #rotaractgreen, #rotaracthealth, #rotaractgrowth, #rotaractpeace and the Rotary/Rotaract collaboration award (which promotes collaboration between Rotarians and Rotaractors). Awards will be given during our 30 year anniversary European Conference (EuCo) from April 4-8, 2018 in Antwerp, Beligum (where E.R.I.C.) all begin through the efforts of founder Jan Huygens.
We also saw the launch of several critical elements for E.R.I.C. by our Head of Marketing, Susana Silva, who revealed our 30 year anniversary book. The book takes a step into the past by capturing momentous occasions and past boards, while also describing the evolution of E.R.I.C. for the last 30 years. Special thanks to Susana and her team for all their hard work. This book reminds me of a famous quote by American author David McCullough:
"How can we know who we are and where we are going if we don't know anything about where we have come from and what we have been through, the courage shown, the costs paid, to be where we are?"
I am proud to say E.R.I.C. now has a history book and we will continue to take giant leaps forward thanks to the support of our Board, Country Representatives, Countries, Districts, Clubs and Rotarians.
Our meeting was followed by a Country Representative training led by our Vice President Lucky Dalena, focused on how we could improve our organization. We were also joined by several Rotaractors, which is a fabulous sign because we were able to get a 360 perspective of E.R.I.C. and of course inclusiveness is the key to growth!
Our Rotaract Europe Board and the HoC co-organized several workshops.
MACRO – Discussion on suicide rate reduction.
MICRO – Business: Lithuanian business environment with guest start-ups.
NANO – Functional Strength Training Workout.
While the HoC also organized a social project, optional activities and tours.
Social projects: Bird houses of luck and a discussion on suicide rate reduction. The goal of REM Vilnius social project is to pay attention to suicide problems, get international experience and show that life is worth living!
Sightseeing tours
Lithuanian Noble Family cuisine tasting, Wine tasting, Folk food tasting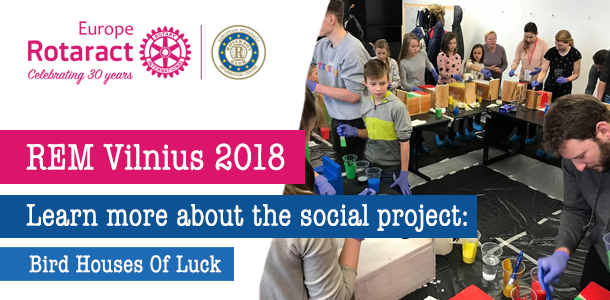 Also thanks to Patric, Mantas, Gabriela, Edvinas (and the HOC guys involved) for making a grassroots business breakout session on the Entrepreneurial Experience at Deeper HQ in Vilnius Tech Park!
I would also like to say I am proud to be the president of an organization whose event, REM 2018 Vilnius, was a great success full of diverse, inspiring and ambitious Rotators. I am deeply impressed that we were able to successfully complete a social project which falls under all 4 social themes – peace, green, growth and health, which we advocate throughout Europe. The project: Building birdhouses, but with their local touch 😉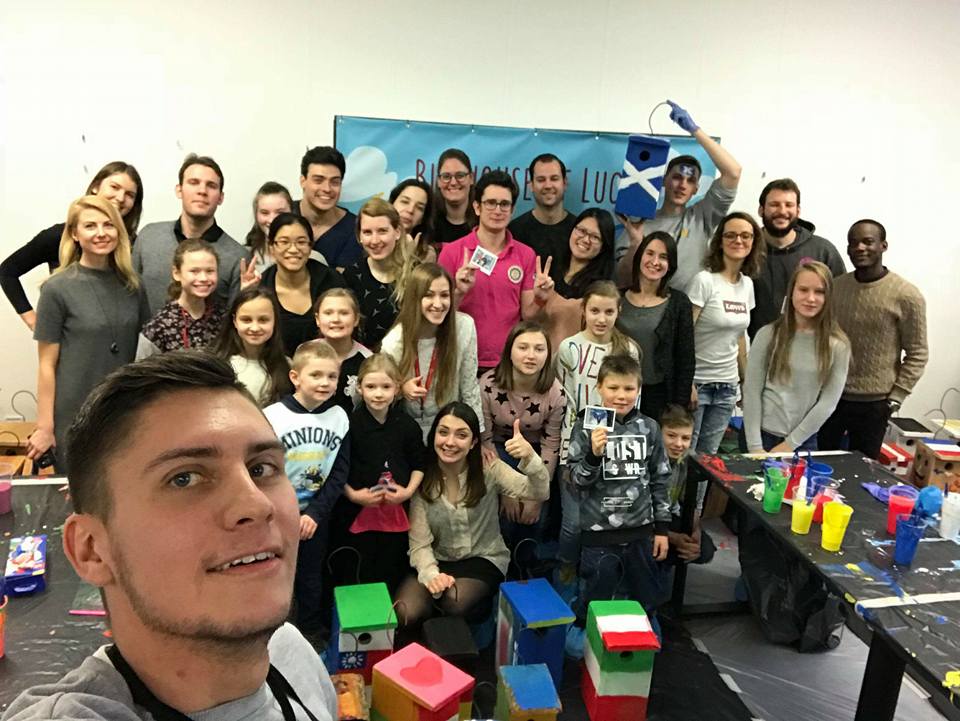 For more info on the Bird house social project, please check out their Facebook.
A big thank you to all the Rotaractors and Rotarians who came, thank you to all the Country Representatives and Board members of Rotaract Europe who supported us by attending and thank you to the organizing committee.
Thanks for reading.We wish you luck and success in your clubs, districts and countries.
Rotaractly yours,
Justin Panayiotis Hadjilambris
Rotaract Europe President 2017-2018
https://rotaracteurope.eu/wp-content/uploads/2018/01/26814892_1516609405126107_6300578470453154978_n.jpg
721
960
Rotaract Europe, IT
https://rotaracteurope.eu/wp-content/uploads/2018/09/rotaracteurope_logo-02-300x105.png
Rotaract Europe, IT
2018-01-25 12:47:34
2020-12-20 22:39:02
REM Vilnius