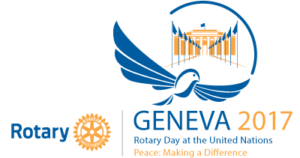 Dear Fellow Rotaractors and Rotarians,
This month we were invited to Rotary United Nations and we not only pinned a new Rotaractor in Europe – 2017-18 RI President Ian H.S. Riseley, but we were also actively involved in event. Mr. Justin P. Hadjilambris, President of Rotaract Europe, and Ms. Anna Lucky Dalena, Vice-President of Rotaract Europe, were panelists discussing the Education and Science as a pathway to Peace workshop (click here to watch).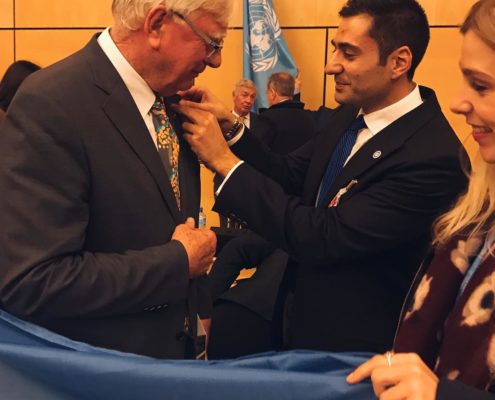 The trip begin on Friday when we all attended the World Intellectual Property Organization (WIPO) conference. The conference included an in-depth and interactive discussion on "The role of Artificial Intelligence in Conflict Prevention: will it polarize or unite? After the other sessions we headed to the hall for Opening Ceremony of Rotary Day at the United Nations in Geneva which included several riveting speeches and a finale Concert by the UN Orchestra. Check out the reply of the opening ceremony on our Facebook page by clicking here.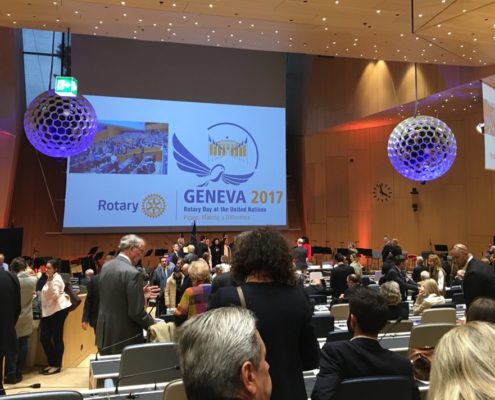 On Saturday, November 11th, the United Nations Office Geneva hosted the Rotary Day at the United Nations in Geneva for the first time (Videos here). During the opening we were introduced to the 6 Rotary Peace Fellows and a series of touching and inspiring speeches including Dr. Mohanned Al-Arabiat, Board Member and President of Generations For Peace, a leading global non-profit peace-building organization. After the opening the workshops began. This year both
Rotaract Europe also sponsored the creation of a peace board which was outside our workshop for guests to sign with "What they could do to promote peace in the world today?"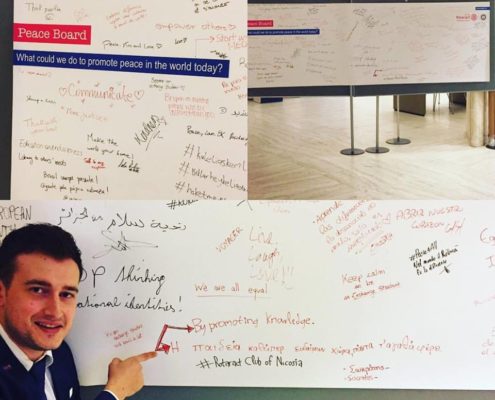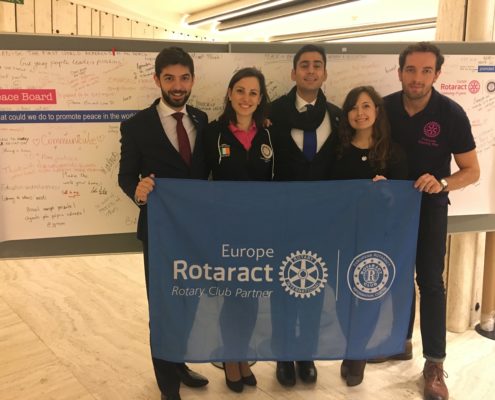 Workshop 3, specifically geared toward young leaders (35 and younger) was an interactive discussion of how Education and Science could be a pathway to Peace. There was compelling points brought forward by all the panellists and peace honorees involved and we urge you to check the video out here. The panelists involved can be found below.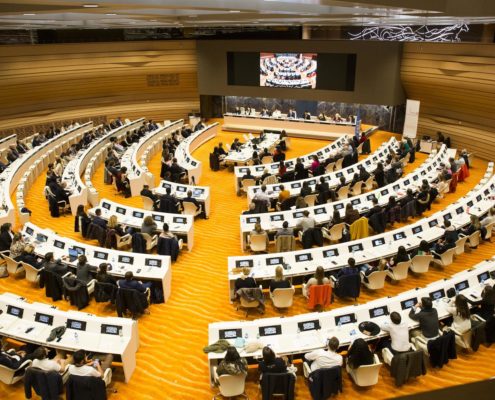 Host of the workshop: Ms Anntiana Sabeti, Member,  Rotaract Genève International.
Moderator and Keynote Speaker: Mr. Scott M. Weber, Director General, INTERPEACE.
Panelists:
Justin P. Hadjilambris, President of Rotaract Europe, Professional of diverse financial service projects (Cyprus
Rose Osinde Alabaster, Member of the Board for the Swiss Water Partnership (SWP); and Co-Chair of the Steering Committee for the Group on Earth Observation Global Water Sustainability Initiative (GEOGLOWS)
Barbora Bruant Gulejova, Coordinator of International Particle Physics Outreach Group and Science Eduction, Communication and Outreach Specialist, International Relations Sector at CERN.
Anna Lucky Dalena, Vice-President of Rotaract Europe, Master in Human Rights and Democratization in MENA Region.
Peace Honorees:
Kiran Singh Sirah, a graduate of the Rotary Peace Center at the University of North Carolina at Chapel Hill, uses storytelling as a path to build peace through his Telling Stories
Jean Best, a member of the Rotary Club of Kirkcudbright, Scotland, who founded The Peace Project.
Rapporteur: Ms. Amélie Bultot, President, Rotaract Genève International.
During the workshop we were also proud to announce the next Rotaract Global ModelUN 2018 will be hosted by Rotaract Club of Kaunas Fortress in the three capital cities of Lithuania: Vilnius, Kaunas and Trakai.
After the workshops we enjoyed a final plenary and summary of all the workshops. The peace poster was also presented to the audience and our Rotaract Europe team took a few photos with President Riseley on stage and pinned him.
A big thank you to all the Rotaractors and Rotarians who came, thank you to all the Country Representatives and Board members of Rotaract Europe who supported us by attending and thank you to Amélie Bultot for organizing the workshop and involving Rotaract Europe MDIO.
We would like to thank you for joining us and we wish you luck and success in your clubs, districts and countries.
Rotaractly yours,
Justin Panayiotis Hadjilambris
Rotaract Europe President 2017-2018