How to help the people of Ukraine?
On this page, you can find information about the ongoing projects of Rotaract clubs in Europe supporting the people in need from the ongoing conflict in Ukraine, fundraising options, information about the current situation in the neighboring countries that are on the first line, and more.
Rotaract Europe aid to Ukraine – Fundraise
You can make personal or club donations via bank transfer. You can use bank service providers like PayPal, Revolut, Wise, etc. to avoid fees.
Beneficiary: Rotaract Europe ASBL – Help account
IBAN: LU30 0019 7055 1338 2000
BIC / SWIFT: BCEELULL Bank: Spuerkeess
Subject: Donation Ukraine
You can also donate using Stripe:
All the collected funds will be used for humanitarian aid to the Ukrainians in need of medical & sanitary supplies, food, clothing, shelter, first aid kits, and more depending on the weekly evaluations working together with Iryna Bushmina – DRR Ukraine, Daria Shevtova – CR Ukraine, Rotary clubs and other NGOs.
Contact Person : Christiane Leitner, Rotaract Europe President, email – president@rotaracteurope.eu; Heilmar Becker, Rotaract Europe Treasurer, email – treasurer@rotaracteurope.eu
Rotary International
In response to the deepening humanitarian crisis in Ukraine, The Rotary Foundation has created an official channel for donors around the world to contribute funds to support the relief efforts underway by Rotary districts and has designated its Disaster Response Fund as the main avenue for contributions.
To this end, The Rotary Foundation has approved:
Now through 30 June 2022, designated Rotary districts that border Ukraine and the Rotary district in Ukraine may apply for grants of up to $50,000 each from the Disaster Response Fund. These expedited disaster response grants can be used to provide relief to refugees or other victims of the crisis including items such as water, food, shelter, medicine and clothing.
During this same period, other impacted Rotary districts that wish to offer support to refugees or other victims of the crisis in their district can apply for $25,000 grants from the Disaster Response Fund.
Now through 30 April 2022, Rotary districts can transfer unallocated District Designated Funds (DDF) to support the Disaster Response Fund, directly supporting these Ukraine-specific humanitarian grants.
Contributions to the Disaster Relief Fund in support of Ukraine can be made here. All funds need to be received into the Disaster Response Fund by 30 April 2022 in order to qualify for use in support of the Ukrainian relief efforts.
Although the Disaster Response Fund will be the main avenue for Rotary Foundation support, Rotary and Rotaract clubs are also encouraged to create their own responses to the humanitarian crisis in Ukraine.
In addition to support provided through the Disaster Response Fund, the Foundation is coordinating with partners and regional leaders, exploring effective solutions to the increased humanitarian needs.
We are in contact with the United Nations High Commission on Refugees – USA to prepare for and respond to the needs of those being displaced in Ukraine and to neighboring countries.
ShelterBox, our project partner for disaster response, is in communication with Rotary members in Eastern Europe to explore how it may offer support with temporary transitional housing and other essential supplies.
The Rotary Action Group for Refugees, Forced Displacement, and Migration is also mobilizing its resources to assist in this crisis.
More than 2 million people have fled Ukraine and are in dire need of emergency aid. The United Nations estimates that number could grow to as many as 5 million people displaced. Rotary clubs in Europe and around the world have stepped up their relief work, some working on the ground to help displaced families.
We will continue to monitor the situation in Ukraine and neighboring countries. Visit My Rotary and follow Rotary on social media to stay updated on how clubs can get involved and what actions Rotary members have taken and the impact it has had for people in the region.
For all other questions and to obtain more information, please contact the Rotary Support Center at rotarysupportcenter@rotary.org.
Rotary Latvia
Rotaract Latvia website for making donations in partnership with non-profit "Tavi Draugi" that is collecting, organising and transporting supplies to Ukraine.
Where the money goes?
– to cover transportation costs
– buying food/medicine/gas in bulk for the wholesale price
Easy to make a donation with credit card.
Contact Person: Kārlis Bankovičs, email – karlis.bankovics@gmail.com
Rotary Club Internațional Chișinău
For DONATIONS to support the local clubs taking care of refugees:
Beneficient: Club Rotary Internațional Chișinău
Fiscal code: 14216018
Bank: BC Victoriabank SA, fil. 3, mun. Chișinău
Swift: VICBMD2X416
1.MDL – MD15VI225100000103713MDL
2.RON – MD84VI000000002224203479
3.EURO – MD88VI000000022512031506
4.DOLAR SUA – MD71VI000222410100103713 (US Dollars)
Note: Sprijin pentru refugiații din Ucraina / Help for Ukrainian refugees
Rotaract Club Cluj-Napoca
Rotary and Rotaract clubs are coordinating sheltering people coming from Ukraine with Rotaractors on the border, transportation with aid to Ukraine. Now the most needed supplies are non-perishable foods, canned food, instant soup, powdered milk, UHT milk, diapers, soap, shower gel, blankets, sleeping bags, disinfectants, pads, toilet paper, wet wipes, clothes, and shoes.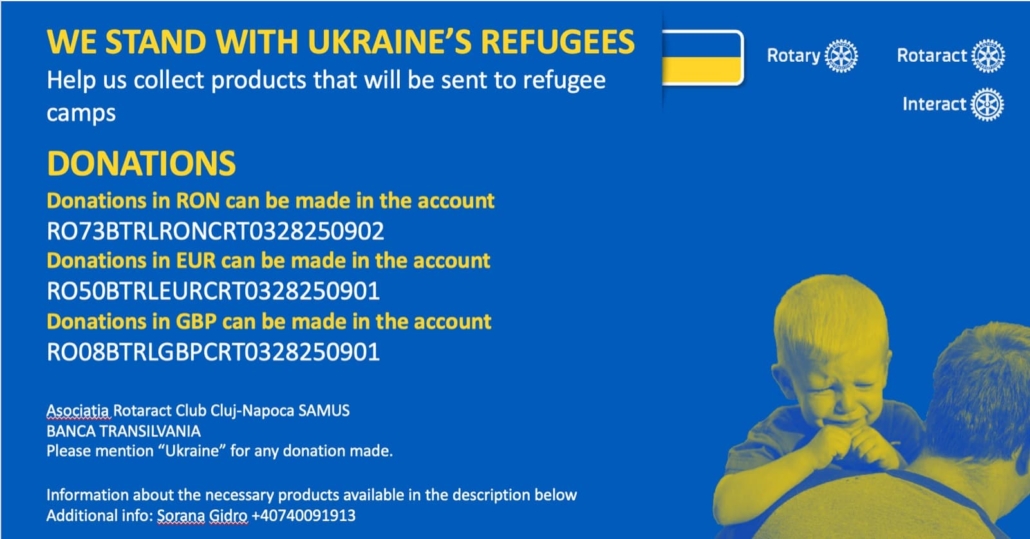 Donations in RON can be made in the account RO73BTRLRONCRT0328250902
Donations in EUR can be made in the account RO50BTRLEURCRT0328250901
Donations in GBP can be made in the account RO08BTRLGBPCRT0328250901
SWIFT Code: BTRLRO22XXX
Asociația Rotaract Club Cluj-Napoca SAMUS BANCA TRANSILVANIA
Please mention "Ukraine" for any donation made.
Rotaract Club of Thessaloniki
In response to the deepening humanitarian crisis in Ukraine, Rotaract Club of Thessaloniki (2484 RID – Greece) organizes during World Rotaract Week fundraising through the Raise for Rotary platform to support the Disaster Response Fund of The Rotary Foundation. The fundraiser will take place from today until March 31 with the aim of raising $250. Even a small donation would help us reach our goal.
You can make a donation to our fundraiser by clicking here.
Contact Person:  Christos Tsertsenes (President Rotaract Club of Thessaloniki), rotaractclubthess@gmail.com
UN Refugee Agency
The UN Refugee Agency also have a fundraising campaign in collaboration with the Red Cross for families in need of humanitarian assistance in Ukraine.
Medical Support for Ukraine
Accomodation
We are facing the worst refugee crisis since WW2 with over 3 million people who have fled Ukraine. The UN estimates that over 10 million people will need assistance. This is a humanitarian disaster. We are appalled by the events unfolding in Ukraine and stand in solidarity with the Ukrainian people defending their freedom and independence.
The Rotary Club Berlin Platz der Republik, the Rotary E-Club of Wall Street and the Rotary Club Berlin International together with a task force of Rotaractors from all over Europe have joined forces and developed a free matching platform for Ukrainian refugees and hosts across Europe. Our collective goal is to secure temporary accommodation for Ukrainian refugees while en-route to their intended destination.
The process for matching refugees with hosts is heavily reliant on volunteers.
Today we are launching a Website name for our initiative: rotarianshelp.org
WE NEED YOUR HELP. This is an emergency, and there is a clear, present, and massive need. Don't wait. As innocent people are forced to leave their homes behind and families are torn apart, there is something you can do to help.
Contact: info@rotary-platz-der-republik.berlin
Supplies
Rotaract volunteers created a tool to connect people of these three groups:

1) people, who want to donate medical aid, food, and all the needed stuff,

2) people and organizations in Ukraine (mostly RACs and Rotaractors in the country), organizations in safe countries (i. e. refuge homes and local help organizations but also Rotaractors at the boarders to Ukraine)

3) people who offer to transport the donations between these groups.

If you or your club want to donate supplies, you can fill out the form and the volunteers will help you with coordination.

Contact – ukraine-supply@rotaract.de
Get in Contact with other Rotaractors
Transportation
Passengers with a Ukrainian passport or ID card are exempt from rail ticket charges in Poland, Germany, Austria, the Czech Republic, Slovakia, Hungary, France, Belgium, and Denmark.
Free FlixBus-tickets for refugees departing from Przemyśl, Rzeszów, and Bucharest.
Budget airline Wizz Air is offering 100,000 free seats to Ukrainian refugees to help them reach their destination, "wherever that may be".
Tips for helping people at the borders
For people who want to go to the Ukrainian borders to help with supplies and transportation here are a few tips:
-> Prepare boards with the information where you can take them and that the transportation is for free. In Ukrainian, please remember to translate it.
-> Ask people if they have a plan – someone they can stay with and where you can give them a lift
-> Many of them have no plan, and in this case, it would be great if you prepare one for them. Try to find out what are possibilities in your countries and how you can help them.
-> These people were waiting for many hours to arrive and cross the border. Please have some blankets and pillows with you, so that they can have a nap on the way. At the border, you can bring all necessaries. They will accept clothes.
Mostly needed are dipers, wet tissues, sleeping bags, blankets, instant food, disposable dishes, juices for kids and sweets. You can bring small toys for kids, that would help to calm them down.
Please remember that some people are coming with their pets.
Support and spread the information
Rotaract Latvia has created a design for the support posters and stickers to bring on protests against teror. Find the design in the link below: