Together for Children Education by Rotaract Club of Tuzla
The project "Let's Touch the Lives of Children" aims to reach as many children in Turkey to assist their needs and bring joy to their communities by investing in their education and well-being. 
By Alexandra Ciobotaru | Rotaract Europe, Marketing
The first activity organized by the Rotaract Club of Tuzla was '29 October Running'. This activity took place between October 29th and November 1st, as the 29th is the National day of the Republic of Turkey and was a reason for celebration.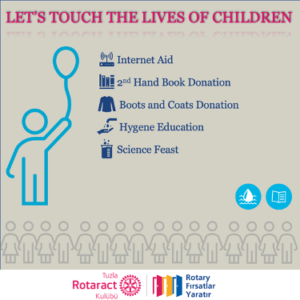 While the Rotaract members were running, they recorded their route and time via various applications on the phone. The result of the activity was the donation of 5GB internet per 1 km to children to reach science, art, and education quickly.

The educational part of the project continues on online platforms in Turkey because of the pandemic (June 2021). This activity is connected to needing access to e-learning for many students seeing their education interrupted due to the pandemic.
At the beginning of the school term, we gave a 1-year internet package to a university student with a laptop. Thus, we aim to provide to the young and children can continue their education without interruption.

The project spammed different activities, such as donations of boots and coats to children at the village school in Samsun. Furthermore, the club coordinated a Chess Tournament on January 9th, 2021, with the Istanbul Technical University Faculty of Maritime DARGEB Student Club, which served as a fundraiser for the clothes donated. Another important donation was a wheelchair-disabled stroller for a young student who could not go to any activities without it.
Another aid was book donations. While we were arranging our libraries for new books, we donated our books to village schools for more children to read—the amount of the donated books over 100 with the support of the members.
Furthermore, to introduce children to science, the Rotaract Club of Tuzla set a campaign for five science kits from Young Guru Academy containing some experiments.
We achieved the budget we targeted and got five science kits as we planned. We look forward to making science kits that will expand our children's imagination and include activities that they can learn while having fun and the children at a village school in Bandirma.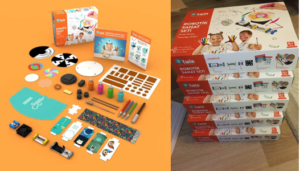 The following steps in Rotaract Club of Tuzla's activity plan are to provide children from an area where hygiene is not defined well with a workshop to understand the hygiene rules and help create a setup where the disease will not spread quickly.
Despite the adverse condition of the pandemic, we worked hard to perform our tasks as a member of Rotaract Club. Instead of giving up, we created opportunities to touch the lives of children.
The information provided in this article was sent by the Rotaract Club of Tuzla, Turkey, RI 2420. District.