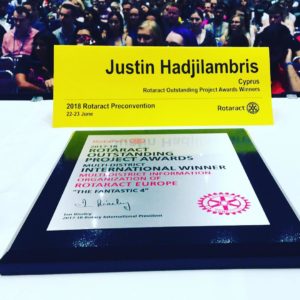 I would like to thank everyone for all their efforts throughout the year. The success of Rotaract Europe MDIO (E.R.I.C.) is built on the efforts of our wonderful Alumni, Country Representatives, supporting Rotaractors and Current Board and in this past year, we have enjoyed many successes. Thank you for the dedication and loyalty that each one of you has shown us.
We've come through a year that was filled with both challenges and victories. How reassuring its been to know that we can count on all of you regardless of what faces us. On behalf of E.R.I.C., please allow me to extend my personal and genuine appreciation to each and every one you for your valuable contributions. Working with you this past year has been a pleasure and we're proud to have you all with us during a momentous 30 year anniversary and also receive the highest Rotary Honor this year, The Rotaract Outstanding Award, for our efforts of bringing together clubs, communicating and achieving.
We offer our best wishes and happiness to you as we all look forward to a successful 2018/19 Rotaract Year with Ben Pintens at the helm!
Ben, we hope you continue in our direction by completing the Legal Entity which is in its final stage, continue to update and expand our directory of European Rotarators, move away from business as usual and expand our MDIO through admittance of more ambitious countries and eventually become a guiding light for all Rotaractors globally through being inclusive, identify innovative ways to offer value, educate and strengthen communication, and lastly, run a kick ass social project.
Below you will find a list of our accomplishments for 2017-2018
Sincerely,
Your Rotaract Europe MDIO President,
Justin Hadjilambris. 
Our accomplishments include the following:
Restructured and updated the internal Bylaws
Development of a legal entity for ERIC
Updated and built a much faster website
Twinning tool to bring together clubs globally
4 themes social agenda- green, health, peace and growth (fantastic four) – over 200 projects received and 30,000 lunches packed in Antwerp and 30,000 trees planted in Europe
Won Rotary's outstanding award for the first time in 30 years and used the winning $1,000 as grants to clubs around Europe looking for project funding
Discussions for the first ever MDIO twinning
ERIC talks during the REM/EUCO (micro, macro, nano)
Established monthly online webinars
New brand identity
Active social media which went from less than 10k likes to over 20k using innovative campaigns such as Social Sundays
30th year book (historical book of ERIC)
Interview and documentary of founder Jan Huygens
New awards: 4 themes award and the RRCI award to enhance relationship between Rotary and Rotaract
CR challenges and awards such as the CR of the semester and of the year
Restablished the ERIC Alumni network
Presidential chatroom with all past ERIC Presidents
Spoke at the UN and UNESCO in front of the RI president and honorable RI directors and Rotaractors about ERIC and our intiatives
Presence and workshops at the Toronto Rotary Convention
The Erics awards show
Monthly Enewsletter
Updated project library
New events communication tool
CR trainings and workshops at every REM/EUCO
And a big thank you to David Lukanović for REM Ljubljana, Marius Krasauskas for REM Vilnius and Ben Pintens for EUCO Antwerp for organizing wonderful Conferences this year.
And thanks to our board:
Founder – Jan Huygens
Past-President  – Jens Christian S Pedersen
Vice-President –  Lucky Dalena
Secretary –  Paul Sampatakakis‎
Treasurer – Matthieu Bondu
Social Director –  Merve Karakaya
Marketing Director – Susana Silva
Worlds Best Marketing Assistant – Mafalda Luís
Information Technology Officer – Barışcan Tunalı
A enourmous thanks to:
Mikolaj Nikola Dragovic
Darko Šovran
Ania Grzywacz
Cyril Noirtin
Laura Verdegaal
Maria Vittoria Gargiulo
Jessie D. Bickmore
Bernhard Pribyl
Fatima Sultygova
Serge Gouteyron
Bill Zerdes
Mohammed Al-Haddad
Emil J. Moawad