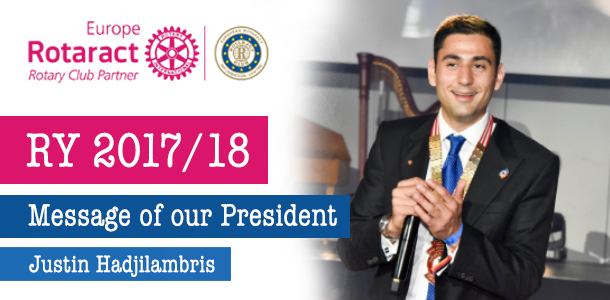 On behalf of our Multi District Informational Organization (MDIO), we would like to say welcome to the new Rotaract year. Whether you are new to Rotaract, new to our multi district or a returning member who is ready for another excellent and impactful year, we are happy to have you this year.
For 2017-2018 we have set a bold ambition: Making a difference.  Whether we are building a new school, organizing a fundraiser, improving medical care or sanitation, training in professional development, we will build a better world through impacting people's lives. We are proud to say that every country has played a big role in developing this vision and you will continue to have a critical role in building European Rotaract Information Center (ERIC) so we play an important role in making a global difference. ​
This year, we will make significant strides. In the last three years we have come a long way and our success continues to come to life. We are on an exciting journey and this is an exciting time to be part of ERIC and do your bit to help us make a difference. In ERIC, we put a lot of value in our members and we are proud of our reputation for teaming and working together. This is why this year our main projects will focus on improving health, supporting the green economy, educating, promoting peace and strengthening collaboration between Rotary. No matter which club or country you are in, you are part of one global team- Rotaract. Your projects are important to you and they are very important to us as well. In ERIC you will have many opportunities to be a key contributor to something big, which will help all of our countries progress and develop.
ERIC is the strongest, oldest and biggest MDIO globally, it is a multi district to get things done, have support and impact the world. Whatever your project, the best way to success is through teamwork, sharing and collaboration so please never be afraid to reach out or ask for help. Teamwork is essential for our success. Please look for opportunities to innovate and challenge yourself and influence a better world. Take every opportunity to extend you network and meet more Rotaractors.
No matter your rank or role in Rotaract and within ERIC, you have the opportunity to help us make the world work better.
We would like to thank you for joining us and we wish you will with your clubs, our region and our globe.
Rotaractly yours,
Justin Panayiotis Hadjilambris
Rotaract Europe President 2017-2018
Anna Lucky Dalena
Rotaract Europe Vice President 2017-2018